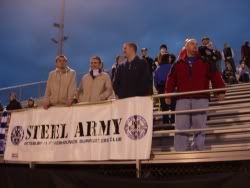 It was a chilly night at The Valley as we draped the Steel Army banner over the railing and formed up behind it. We were twenty strong for the Hounds final preseason game against the Pittsburgh Panthers, not bad for the low 40s and drizzle. With beer-in-belly we eagerly anticipated the contest.
From the opening whistle the Hounds controlled the pace of the game and locked down the midfield. Pitt couldn't muster an attack as the Hounds kept up the pressure. The back four, led by Nathan Salsi, was solid. Jason Kutney was able to continually push up the right wing and stretch Pitt's midfield. Ryan "The Korean Express" Caugherty completely shut down the middle and set up many of the Hounds attacks. Jeff "Kentucky" Hughes played a strong game serving up balls to our forwards. Thabiso "Boyzzz" Khumalo was all over the pitch; the guy is lightning quick and has a soft first touch. Our forwards kept up their pace as the Pitt defenders started to tire. The Hounds were able to muster some good scoring chances but Pitt's keepers were up to the task. At one point Leon Browne broke in alone, forcing the Pitt keeper to charge off his line and make a diving stop. Jean Robens Jerome floated the rebound towards the empty net only to have Pitt's keeper scramble back and deflect the ball over the crossbar. It was a tremendous save and kept the game scoreless going into the half.
Travis "T-Mac" MacKenzie finally put the home team ahead in the 65th minute when he slotted one past the keeper for his first goal of the pre-season.
In the 78th minute the fans that braved the elements were rewarded with an amazing tally. T-Mac cut down the flank and crossed the ball into the box. With all the confidence of a world-class striker, "Bad, Bad" Leon Browne bicycled up and drilled the rock into the back of the net. The crowd, speechless at first, went insane after they realized what they had just witnessed…pure quality! The Steel Army bellowed out the "Bad, Bad Leon Browne" chant, much to the amusement of the Hounds players and staff. This was already Leon's 3rd goal of the campaign.
Riverhound's keepers Andy Keszler and Zach Varga didn't see too much action but stopped everything that came their way.
After the game the Army marched over to our local hangout, the Bottleshop Café, to enjoy the scenery and toss a few more down. Next week we invade Cleveland. May God have mercy on their souls!