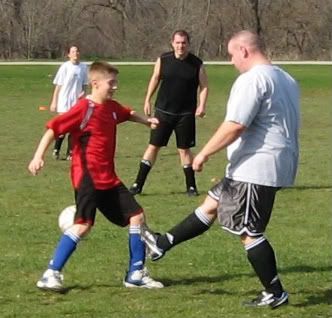 AP - Pittsburgh - April 7

th

, 2008
Young striker Logan had a breakout game this past Sunday. After opening scoring for the Whites, he was dealt to the hated Blues for the remainder of the session. He went on to score 3 more goals and assist on 2 others.
"I just felt good today," explained Logan, "everything was clicking out there. My teammates controlled the middle and gave me great service."
His most spectacular play didn't even result in a goal. Logan charged from the wing, won the ball after tossing BEEF to the pitch like a rag-doll and unleashed a powerful strike which struck the post.
"Well, the ball was in his feet a bit, so I challenged and he fell," said Logan in reference to stealing the ball from his father, BEEF, on a play in the 2
nd
half. "I just wish I could have put that one away."
"He played an incredible game," commented Blue's player
Espo
. "You can tell that he's my Godson. The way he approaches the game and takes on defenders...that's not something you can teach, it's something inside a man. I wouldn't be surprised to see Logan playing for the
Riverhounds
in another 7 years. He's this good after 2 games...imagine what he's going to be like after 2 years!"