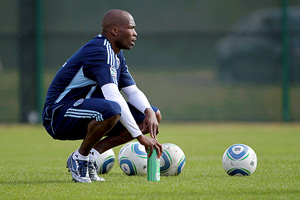 it's interesting...on the prospects of Chad Ochocinco wanting to play soccer
After his stint in KC has ended (which it will by all account next Monday), will he have even MORE of a passion to succeed in this sport? If so, would he be willing to trial at a USL level club? Imagine what signing this guy would do, not only for a club, but for the USL as a whole, just in terms of exposure.
Imagine the buzz, both positive and negative, if the Hounds were to offer him a trial that he accepted. Now imagine that he makes the squad. Imagine how many more people would come to games. Imagine the coverage the Hounds would get from the local media. This would be a HUGE story in the middle of Pirates season (gag) that people would latch on to. CVHS would, without a doubt, sell out.
Big, big momentum as a franchise moving into what could be the biggest year of their existence.
If I worked in Hounds FO, I'd at least make an inquiry to see if there was any mutual interest.